Carrying Forward the Shanghai Spirit To Safeguard the Multilateral System
Wang Yi: Uphold the Shanghai Spirit and Contribute to International Cooperation Against COVID-19
2020-05-29
size: A A A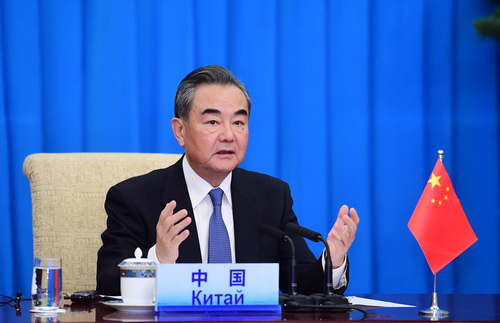 Remarks by H.E. Wang Yi
State Councilor and Minister of Foreign Affairs of
The People's Republic of China
At the Video Conference for SCO Foreign Ministers
Diaoyutai State Guesthouse, 13 May 2020
Foreign Minister Sergei Lavrov,
Colleagues,
It's good to see you at this video conference. As the international community is fighting COVID-19, our meeting today among the foreign ministers of SCO member states takes on a special significance. It reflects SCO's fine tradition of solidarity, and demonstrates our firm resolve to work with the rest of the global community to tide over this trying time. Let me first thank Russia, the rotating chair, and Minister Lavrov for your tremendous work in putting this meeting together.
Since the start of COVID-19, we SCO member states have acted in the Shanghai Spirit and contributed our share to the global cooperation in concrete ways. At the most difficult moment in China's fight against the virus, fellow member states have rendered us much-needed, invaluable support. We truly value such kindness. Similarly, our hearts go out to fellow SCO countries who are hit by COVID-19. We have shared with them control and treatment experience without any reservation, dispatched Chinese experts, provided badly-needed medical supplies and facilitated relevant purchases from China. All this has strongly supported the response efforts of relevant countries. We are convinced that under the strong leadership of our leaders, we will win the ultimate victory against the virus.
As we speak, COVID-19 infections continue to spread in the world. People's health and safety are in grave jeopardy. The world economy is under mounting recessional pressure. SCO member states face a daunting challenge. At this difficult time, as a new type of organization for regional cooperation with the largest population, the SCO needs to continue championing the Shanghai Spirit and the vision of a community with a shared future for mankind. It needs to strengthen solidarity and coordination and act proactively. We must bring the "SCO strength" to bear on winning an early victory against the virus and getting the economic and social development back on track in the region and beyond. To this end, I wish to propose the following.
First, let us promote solidarity and coordination and jointly win the global fight against COVID-19. As of today, the number of confirmed cases worldwide has reached 4.1 million. Each day, tens of thousands of people are infected, and thousands of lives are lost. In the face of this grim reality and numbers, there is no more important agenda than saving lives, or more urgent task than international solidarity and cooperation.
We call on all governments to rise above differences and frictions, focus on tackling domestic infections, focus on enhancing international cooperation and focus on saving lives, in order to provide the leadership needed to win the fight against COVID-19.
We call on people around the world to defy pessimism and fear and reject attempts to politicize the response, label the virus, and stigmatize any specific country, in order to shore up extensive public support to win the fight against COVID-19.
We call on the media across the world to observe professional ethics, adhere to science and reason, stick to facts and truth, and commit to impartiality and balance, in order to foster a conducive atmosphere for winning the fight against COVID-19.
We need to deliver the SCO leaders' statement on joint efforts against the threat of epidemics adopted at the 2018 Qingdao Summit, and formulate an action-plan as soon as possible to guide anti-epidemic cooperation.
China proposes to optimize the SCO infectious disease notification mechanism, set up an SCO epidemic database and launch collective and coordinated response mechanisms in the border areas between SCO members. Effective measures should remain in place to protect the health and safety of other SCO nationals and students in our respective countries.
China stands ready to provide further assistance to fellow SCO members to the best of its ability, including facilitating the purchases of medical supplies from China. At the same time, China will continue to engage in information-sharing and joint R&D of drugs and vaccines, and work with all others to build a community of health for all.
Second, let us promote security cooperation to jointly safeguard regional peace and stability. With COVID-19 and other factors at play, the world is facing a myriad of traditional and nontraditional security risks and challenges. Common, comprehensive, cooperative and sustainable security should remain our overarching objective. We need to consolidate mutual political trust, support each other's efforts to safeguard political security and social stability, and take security cooperation to greater depth and breadth. We need to join hands and build stronger security safeguards.
We should scale up mutual support and guard against ill-intentioned attempts to sow discord. We must work together to deny terrorists, separatists and extremists any chance to wreak havoc in our region, and take forward cooperation in key areas such as counterterrorism, narcotics control and border management.
Biosecurity-related risks require our close attention. In this area, we need to positively study the establishment of an SCO cooperation and consultation mechanism, strengthen communication on regional and international developments, and jointly advance the institution- and capacity-building for sound governance.
The Afghan peace process has come to a critical juncture. As Afghanistan's close neighbors, SCO member states are duty-bound to play our role in the political settlement of the Afghan issue. We must stay committed to the Afghan-led and Afghan-owned principle, facilitate a broad-based and inclusive peace and reconciliation process, and support Afghanistan in defending its national unity and political stability. The withdrawal of foreign troops must proceed in a responsible and orderly manner, or else terrorist groups may exploit any vacuum in the country and threaten peace in the whole region. The role of the SCO-Afghanistan contact group as a cooperation platform with Afghanistan should be fully harnessed to encourage the main political forces in Afghanistan to seize the opportunity, bridge differences, and break new ground in national reconciliation and reconstruction at an early date.
Third, let us promote mutual benefit and pursue common development. As things stand, we all face the pressing task of stabilizing the economy and ensuring people's well-being. While getting prepared for a possible long-term fight against COVID-19, we must step up policy coordination and think up flexible and diverse ways to further advance Belt and Road cooperation. Such efforts will help minimize the economic and social impact of COVID-19 on our respective countries and build synergy to avert the downward risk on the world economy.
We must focus on keeping industrial and supply chains in our region safe and open. As long as containment measures are properly enforced at road ports on our borders, we need to support the expeditious restoration of their full cargo handling capacity. The China-Europe Railway Express, a lifeline for freight transport, should be put to best use to help our respective countries combat the virus and resume economic activity. To facilitate the movement of key business personnel and those working in essential manufacturing and service sectors and the shipment of critical supplies and raw materials, "fast lanes" and "green lanes" should be established as quickly as possible.
We need to take multi-pronged measures to foster new areas of cooperation. For instance, we could speed up the commercialization of research outcomes in science, technology and innovation, and carry out cooperation in big data, the Internet of Things, artificial intelligence and 5G. We could increase the use of local currency settlement to jointly fend off financial risks. We welcome the decision of the Asian Infrastructure Investment Bank (AIIB) to create a COVID-19 Crisis Recovery Facility, which will provide financial support to its members, SCO member states included. China will continue to follow through on the 30-billion-yuan equivalent special lending facility within the framework of the SCO Inter-bank Consortium to support member states in growing the economy and improving people's lives. We should also actively implement the SCO Cooperation Program on Food Security, explore new ways of modern agricultural cooperation, and keep the agricultural supply and market stable in our region.
We need to strengthen people-to-people exchange and cultural cooperation. Our media organizations and think tanks should be encouraged to have more interactions on how to present stories of friendship and solidarity as we jointly fight the disease and pursue common development. Such accounts will help spread the positive message of mutual support and assistance in trying times and further cement public support for our wide-ranging cooperation.
Fourth, let us promote multilateralism and jointly defend and improve the international system. This year marks the 75th anniversary of both the victory of the World Anti-Fascist War and the founding of the United Nations. Yet as we speak, the UN-centered international system, established in the wake of World War II, is under attack from the increasingly rampant acts of unilateralism and bullying. In such a context, there emerges an overwhelming chorus among people around the world for the need to draw lessons from history, to safeguard the victorious outcomes of World War II, and to uphold multilateralism and improve global governance.
We must uphold multilateralism, safeguard the purposes and principles of the UN Charter, and maintain the international order anchored in international law. We must firmly reject self-centered moves of unilateralism, and oppose sanctions and "long-arm jurisdiction" that have no basis in international law, in an effort to uphold fairness and justice in the world.
We need to seek closer exchanges and cooperation between the SCO and the United Nations and its specialized agencies. Under the current circumstances, it is of special importance that we support the role of the World Health Organization in leading and coordinating the global fight against COVID-19. We should take the initiative to offer SCO solutions to global challenges, and play a more constructive role in improving global governance.
Colleagues,
COVID-19 has affected the daily operation of this organization. In response, we must think creatively to conduct cooperation and exchange in the context of fighting the virus. China will give full support to the Russian presidency. To prepare for the Summit and other important events, we could use videoconference, online discussion and other means to coordinate positions on matters of shared interest in a timely manner and put forward new initiatives and measures to galvanize SCO cooperation in the "post COVID-19 era".
While COVID-19 is sure to pass, our friendship and cooperation are here to stay. I am convinced that the SCO will emerge from the COVID-19 test with even stronger cooperation and a closer bond as a community with a shared future. We have a brighter future ahead.